That's what it's all about –  MARK & REWARD the behavior!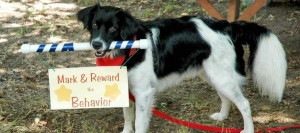 Whether you use voice, a clicker, or some other marker, your dog quickly learns that when his behavior evokes a sound or a sign from you (the mark), the reward is soon to come… and is always something good!
Reward-based training (aka operant conditioning) is very popular and it is easy to see why.  You can build trust with kindness and respect, communicate and deepen your bond, and have a LOT of fun – all while teaching your dog to be your perfect pooch!
---
ARTICLES