Thanks to all who participated in the Fido Frost-a-thon fundraising event. It took some brave souls to get out there this bitter cold winter and enjoy some outdoor sports with your canine for this event!
The top fundraiser was Kathy Tucker, of Texas. She won a $100.00 gift certificate to Sparky's Boutique and Outfitters, and a buff.
Everyone who raised at least $150.00 for DSA got a special prize made by the Vice President of DSA, Sally Hoyle. She created these nice, warm fleece buffs, to keep your neck warm in the cold weather. They feature "DSA" embroidered on them. The recipients of these one-of-a-kind neck-warmers are: Kathy Tucker, Debbie Baker, Kelly Ford, MarSue Freeman, Sally Hoyle, Angela Hudson and Amy Porto
Everyone raising at least $50.00 for DSA in this fundraiser received the Frost-a-thon patch.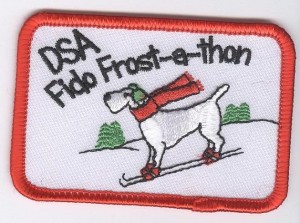 Thanks to everyone who participated in this event.  And, if you missed it, the Hike-a-thon is right around the corner!  Please be sure to sign up!  Sally Hoyle, our fundraising chairperson will be providing more information soon (look for an announcement in the newsletter).
Thank You!
Submitted by Sally Hoyle