Troop membership is one of the best benefits that we offer our members!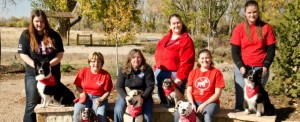 What could be more fun or educational than getting together with other members to learn, earn, and share?  You  must be a member of DSA to join a troop.  Troops do many things, from meetings and presentations, to community service, fundraising, hikes, and more! Working on badges together can be much more effective when we work as a team, sharing our tips (and failures), and helping others reach their goals.
Troops, as well as members, have 3 key things that we all agree on and live by:
The Dog Scout Way
The Dog Scout Laws
Learn – Earn – Share
Join a troop today!  Click this link to visit our "Find A Troop" page to see what troops exist near you.
Can't find a troop near you?  Do you communicate well?  Can you motivate members to participate in your troop activities?  Perhaps you should start a troop of your own!  Click this link to visit our "Start a Troop" page to learn all you need to know.
Already have a troop that you are leader or co-leader of?  Click this link for everything you need to manage and run your troop, and keep your members engaged and happy!
Questions?  Concerns?  Ideas?
Contact our troops coordinators, Barrie Lynn and Cindi Stone –