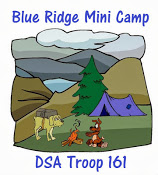 What:       Dog Scout Camp is like summer camp, only for people of all ages, and you bring your dog along to be the center of the fun! Each day will hold many activities, and each camper chooses which and how many to attend.
When:      TBA
Check-in Monday evening. Four full-days of activities. Camp ends at noon on Saturday.
Where:    Western Maryland 4-H Educational Camp
243 4-H Camp Road
Swanton, MD 21561
Activities:
Testing for the Dog Scout merit badge and title
Obedience Activities: Shaping and Clicker Training
Trail Activities: Hiking, Canine Backpacking and Cani-cross if you have the needed equipment
Water Activities: Teaching dogs to Swim, Kayak/Canoeing, Dock Diving and Water Retrieving
K-9 Fitness
Rally Obedience
Making Heeling Fun!!
Dog Care
Campfires, S'mores, and more
Arts and Crafts (cool dog-related craft projects)
Camp Fees: Registration includes lodging from Monday through Friday nights, 3 meals plus snack daily, and all activities and instruction.
One person with one dog: $650
Additional person from same household: $400
Additional dog: $25 (Limited to two dogs per person)
DSA Member Early Bird Rate: $525 (One person with one dog. Person must have been a DSA member in good standing for at least one full year to get member rate.
New Incentive program: Refer a new camper and both the referrer and referee will get a $50 credit on their camp tab!
Questions/Registration: Contact Noelle Weeks at
For more information: http://blueridgedogscoutcamp.blogspot.com