Kiyo is a very special Akita – she was born totally deaf.  Kiyo has worked hard and learned many things.  This summer, she achieved both the UPD-1000 and UTD-1000 titles!
In August, Nancy Almann (owner/handler and DSA Member) , wrote us the following email:
"When she was 4 weeks old, her breeder made the terrible decision to have her euthanized.  Kiyo ('Tipsy') could barely stand, and was not eating (she couldn't stand or latch onto her mother's teat).  When she did stand and walk, staggered around in wobbly circles.  Lynny thought she had such severe neurological issues that the kindest thing to do would be to have her euthanized.

Lynn made that horrendous trip to the vet with Little Missy, weeping as she drove.  Her vet gave Kiyo a thorough neurological exam, and figured out that her problem was deafness, not neurology.  Lynn drove home in tears, this time weeping with relief.

That night, she dreamt Kiyo was my dog.  She called me about her, but at the time I had no place or time for a special needs dog.  One of my dogs had just been diagnosed with cancer, our male had dementia, and just a few months prior to that, I'd adopted a young, whip smart dog who had absolutely NO training.  Think 'huge behavior issues because of her intelligence & lack of respect for humans.'

A month later, brilliant Zuki was dead – euthanized due to osteosarcoma.  I called Lynn about Tipsy – and on Christmas day, 2011, she joined our pack.

The fact that Kiyo is hale & hearty enough to log enough mileage to earn both 1000 mile titles is a small miracle to us.  Thanks to DSA for providing a way to memorialize this."

Nancy Almann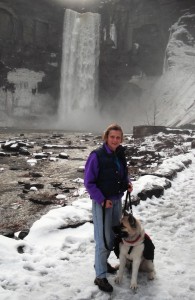 To Nancy & Kiyo ~
You are a match made in heaven.  We want to congratulate you both on your achievements, and wish you all the best in your future endeavors!
Your DSA "Family"