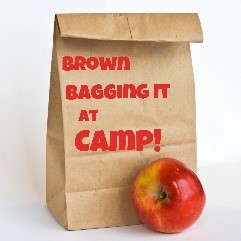 April 19-21 2016
We're Brown Bagging It this year!  In order to keep the admission fee down to $100 per camper, we are doing things a little bit different.  We are holding a "day camp" at Grasshopper Hill Farm in Flint, Texas.  This means there are no overnight accommodations or dining hall.  There is a La Quinta that is dog friendly if you are from out of town.  There are also RV parks.  You will have to bring everything you need for yourself and your dog:  all the food for breakfast, lunch, dinner and snacks; all your dog's food; water for both of you; yard chairs; blanket for your dog to sit on; ice chest; backpack for your dog; and equipment for the badges you plan to earn like a first aid kit or water shoes and/or swimsuit for the water badges.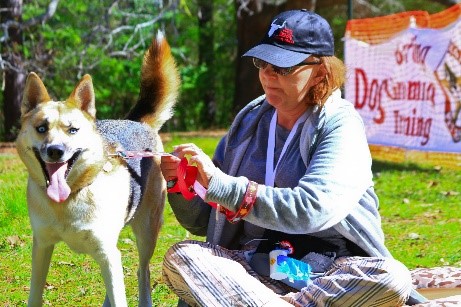 The following badges are being offered: mandatory Dog Scout badge (canine good citizenship), first aid, hiking, canine maintenance, canine massage, puppy paddler, beach buddy, art of shaping (painting), overnight camping and boating safety.
Camp starts off Friday night 5:30 p.m. at Faulkner Park, located at 410 W. Cumberland Rd.  Here you will check in, get a copy of the final schedule, map to the farm, meet and greet with our Directors Lonnie Olson and Claudette Smith.  You will also get the 1 mile hike in for the hiking badge and Lonnie will teach the first segment of the Dog Scout Badge.  Saturday morning we will again meet at Faulkner Park at 8:00 am for the 2 mile hike.  Then everyone will "convoy" to the Farm.  Sunday morning the overnight camping badge people will already be at the farm and so we will meet at the farm for the 3 mile hike at 9:00 am.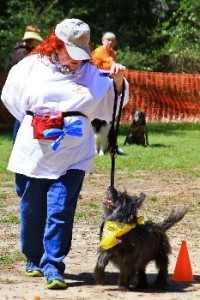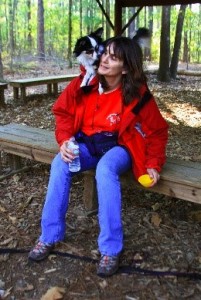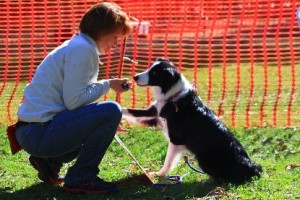 Since we are packing in so much action into our Camp Schedule, do not tell your family you will be home for dinner!  Plan to stay late—possibly 'til 9:00 pm!  Even Sunday is a late evening as we have to do the paperwork for your badges, calculate the fees for the badges and any camp store purchases.  Then you have to check out.  You will also be awarded your badges by Lonnie!
Mini-Camp-Registration-Form-2016
Rules to abide by during camp – East Texas Mini Camp
Dog Scout Camp – General Instructions