Nov
16
Sat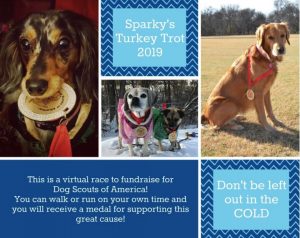 Sparky's Turkey Trot is a virtual race that you can walk or run on your own time and you will receive a medal for supporting this great cause!
A virtual run is a fundraiser to bring people from all over the world to run together on their own time, in their own towns during the week of Thanksgiving. You can run after work, on the weekend, at your park, or on your treadmill. You can also walk, bike, sled, skijor, scooter, cart, cani-cross, or combine it with a geocache or letterboxing activity.
Run or walk a 5K, 10K or 1 Miler and be rewarded with the Dog Scouts of America Sparky's Turkey Trot race medal. To earn your medal, please run anytime during the week of Thanksgiving (November 16-24) and you will receive a medal "on your honor" for supporting Dog Scouts and getting some miles in.
Nov
28
Thu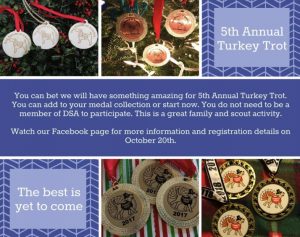 The FIVE Mile Gobbler is an additional fundraiser, to celebrate our 5th Annual Turkey Trot. You may participate in the Mile Gobbler on its own or in conjunction with our Turkey Trot.
This is a virtual five mile run or walk that you complete on your own time and you will be rewarded with a special Mile Gobbler PATCH to show off your hard work. To earn your patch, please complete your 5 miles anytime between Thanksgiving and Christmas. There is no need to send in a mileage log to receive the Mile Gobbler patch it is issued "on your honor". However, if you want to count your miles towards a future trails badge or title, you will need to log the miles and carry the required pack items in accordance with the badge/title criteria—you will submit that log to your evaluator or e-mail it to once the badge/title requirements are completed.
Medals and patches will be mailed out after Christmas. All proceeds from this events will go to furthering the mission of Dog Scouts of America (and setting up teams again this year will help us cut down on mailing costs so more of your hard-earned donation dollars can be spent on this mission). During the setup of this virtual race, we had to choose a location for the race to be based. The home base is the location of Michigan Dog Scout Camp, the happiest place on earth. But this race can be run from anywhere!
Be sure to e-mail a picture of you and your dog and/or a team participating in this event to If you post on social media #dogscoutsofamerica
Feb
29
Sat
Free Mini-Film Festival for Humans…about Dogs

@ Arlington Community Church
Feb 29 @ 10:00 am – 12:00 pm
Want to be a better advocate for your dog or the dogs in your community?  Join Dog Scouts of America East Bay Troop 237 in watching two films by Canine Behavior Expert, Susan Sternberg, that will provide you with valuable information on dog communication.  These films can help you be proactive in handling your dog's interactions with people and other dogs and increase your awareness of the warning signs displayed by dogs to prevent dog bites.
https://www.meetup.com/DogScouts/events/267912423/
Humans only for this activity (service dogs permitted)